Two Kazakh students and US citizen accused of disposing of Boston suspect's laptop and backpack from college dorm roomEd Pilkington in New York
The Guardian
Three teenage college friends of Dzhokhar Tsarnaev, the surviving Boston Marathon bombing suspect, were charged on Wednesday with covering up evidence in an attempt to obstruct the investigation into the attack, which killed three people and injured more than 260.
Two Kazakh students and a third man, a US citizen, all 19, are alleged to have disposed of Tsarnaev's laptop and a backpack containing fireworks in the frenzied hours after the names of the two Boston bombing suspects were made public.
Dias Kadyrbayev and Azamat Tazhayakov, both from Kazakhstan, and Robel Phillipos, a US citizen, appeared before a federal judge in a brief court hearing in Boston on Wednesday afternoon. Kadyrbayev and Tazhayakov were charged with conspiring to obstruct justice, which carries a maximum sentence of five years in jail and a fine of $250,000. Phillipos was charged with making false statements to federal investigators, which carries a maximum sentence of eight years and a fine of $250,000.
The three men were all friends of Dzhokhar Tsarnaev, 19, who was a student at University of Massachusetts at Dartmouth. His older brother Tamerlan, 26, was killed after a shootout with police in the wake of the Boston bombings. Kadyrbayev and Tazhayakov shared an apartment in the nearby town of New Bedford, Massachusetts.
According to the criminal complaint against Kadyrbayev and Tazhayakov, the pair recognised Tsarnaev from pictures released by the authorities four days after the attack. Kadyrbayev is said to have told FBI agents that then he sent text messages to Tsarnaev, who replied "Lol", "You better not text me", and "Come to my room and take whatever you want".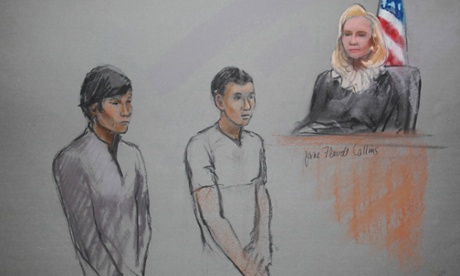 Dias Kadyrbayev, left, and Azamat Tazhayakov are pictured in a courtroom sketch, appearing in front of magistrate judge Marianne Bowler at the federal courthouse in Boston. Photograph: Jessica Rinaldi/Reuters
The complaint alleges the Kazakh pair then went with Phillipos to Tsarnaev's dorm room at Pine Dale Hall. They were let in by Tsarnaev's unnamed roommate, who told them Tsarnaev had left some hours earlier.
The FBI says the accused men described how, while watching a movie in the room, they noticed a backpack containing seven red tubes of fireworks, emptied of their explosive powder. Kadyrbayev, by now sure of Tsarnaev's involvement in the bombings, admitted to agents that he decided to remove the backpack "in order to help his friend Tsarnaev avoid trouble".
The trio are also accused of removing Tsarnaev's laptop, which they took in order not to alert the roommate's suspicions about the backpack. They went back to the New Bedford apartment, and Kadyrbayev later threw the backpack into a dumpster, according to the affidavit.
FBI officers first detained and questioned the trio four days after the Boston bombings. The three were released, but the Kadyrbayev and Tazhayakov were later taken back into custody and held by immigration authorities, accused of having overstayed their student visas.
The complaint alleges that Phillipos lied to investigators when he was first questioned, insisting that he had not played any role in the disposal of the evidence. Law enforcement officers later recovered the backpack and its contents from a landfill waste site.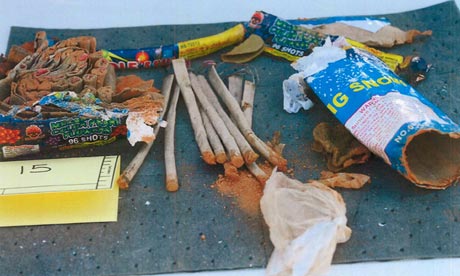 In an image released by the FBI, fireworks tubes are found in a backpack that was disposed of by friends of Boston suspect Dzhokhar Tsarnaev. Photograph: FBI/AFP/Getty Images
There is nothing in the criminal charge sheet to suggest that the three accused men were involved in planning the marathon bombings on 15 April. Their alleged offences are confined to events after the attacks had taken place. But in a footnote to the charge sheet, the FBI said that about a month before the bombing, Dzhokhar Tsarnaev told Tazhayakov and Kadyrbayev that he knew how to make a bomb.
Lawyers for the two Kazakh men made separate statements outside court in Boston in which they said their clients were innocent of the charges. Robert Stahl, representing Kadyrbayev, said the 19-year-old and his family were "just as shocked and horrified by the violence in Boston" as the rest of the country, and that Kadyrbayev "had nothing to do" with it.
'Co-operating with the authorities'
Stahl, a New Jersey-based attorney who specialises in representing people from the former Soviet Union, stressed that his client had been fully co-operating with the FBI and that he had no inkling that the items removed from Tsasrnaev's dorm room were connected to the bombings. He said that contrary to the information in the charge sheet which lists Kadyrbayev as a student of UMass Dartmouth, he was in fact an engineering student at the Massachusetts Institute of Technology, and had violated his student visa because he had attended classes so irregularly.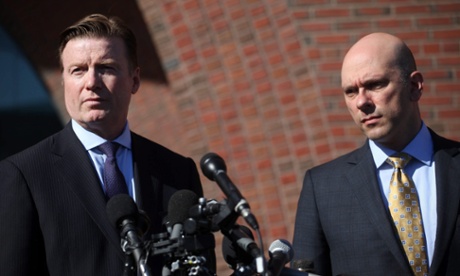 Robert G Stahl, left, attorney for Dias Kadyrbayev and Harlan J Protass ,attorney for Azamat Tazhayakov, speak to the media outside the federal court house in Boston. Photograph: Dominic Chavez/EPA
Harlan Protass, representing Tazhayakov, also stressed that his client was co-operating with the authorities. "He was shocked to hear that someone who he knew was involved in the Boston marathon bombing. He considers it an honour to be able to study in the United States, and he feels for the people of Boston who have suffered," Protass said.
In the two weeks since the bombing, more than 1,000 FBI agents have been dedicated to the task of finding out how the bombings were planned and, crucially, whether there was a wider network of support behind the bombers. Early indications from the inquiry have pointed to the brothers acting largely alone, though federal agents continue to look closely at a six-month trip taken last year by Tamerlan Tsarnaev to the troubled region of Dagestan in Russia, where his parents live.
On Tuesday, a lawyer for the widow of Tamerlan Tsarnaev, Katherine Russell, said she has declined to claim his body and instead authorised his family to collect it. Amato DeLuca said in a statement that his client had just learned that the medical examiner was ready to release Tsarnaev's body, and that she wants it released to the Tsarnaev family.
An uncle of the brothers, Ruslan Tsarni, told the Associated Press that the family would take the body. "Of course, family members will take possession of the body," said Tsarni, of Montgomery Village, Maryland. "We'll do it. We will do it. A family is a family." He did not give any further details of the arrangements.
DeLuca said Tamerlan Tsarnaev's widow met law enforcement officials "for many hours over the past week" and would continue co-operating. FBI agents on Monday visited her parents' home in North Kingstown, Rhode Island, where she has been staying, and carried away several bags.