DONALD TRUMP has had a "stunning victory" in his campaign to become President of the USA, Gerry Adams said, "and we have to work with him"
"We have to deal with the fact that the people in the USA have spoken, whatever we think about it," the Sinn Féin leader told RTÉ Radio's Seán O'Rourke on Wednesday morning.
He said we are lucky in that "the issue of Ireland" is supported by both the Democrats and Republicans and we need to be very focused on the topics of investment, the Peace Process, the plight of the undocumented and the post-Brexit scenario.
The Sinn Féin leader said that he "personally and robustly took issue many times", privately as well as publicly, with Presidents Bush, Clinton and Obama on US foreign policy (particularly on Cuba, Palestine, Afghanistan and Iraq) "but what they had in common was their interest in Ireland".
He stressed the need for the Irish Government and others to continue to engage with Irish-America to maintain Ireland's profile with the White House and across the USA:
"Irish-America have been the consistent drivers of support from successive administrations for Ireland."
Asked if he still thinks "there will be a welcome on the mat and the bowl of shamrock presented at the White House" after public criticism of Trump by Fine Gael leader Enda Kenny and Fianna Fáil leader Mícheál Martin before his election, Gerry Adams said:
"I'd be very surprised and disappointed if that wasn't the case."
The Sinn Féin leader emphasised that it's important to acknowledge the contribution Hillary Clinton has made to the Irish Peace Process along with her husband, President Bill Clinton:
"She was a good friend to Ireland."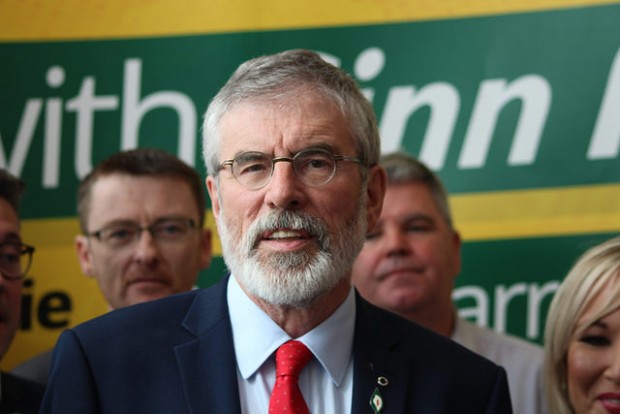 ?? GERRY ADAMS will be in New York for a three-day visit from Thursday where he will be meeting Irish-American figures and groups "who will want to ensure that Ireland has the same sort of access it has had in the past".
The Sinn Féin leader will be attending the Friends of Sinn Féin dinner and the formal naming ceremony of "Easter Rising Way" in Maspeth, Queens, on Saturday.
The Irish Times notes:
"It overlooks the Fenian Monument erected in 1907 by the Irish Revolutionary Brotherhood which was involved in planning the Easter Rising.
"The monument was erected to commemorate the 50th anniversary of the Fenian Rising of 1867.
"The naming was proposed by Congress member Elizabeth Crowley who represents the district in Queens and has Irish grandparents."